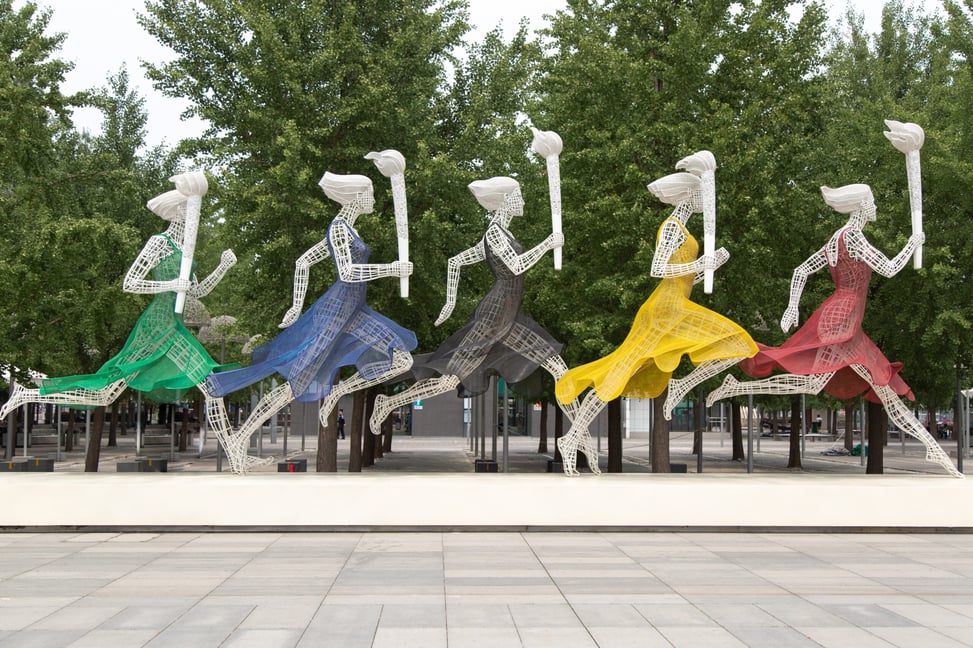 Learn how Olympic-level advertising investments can be supported (or enhanced) with advanced contextual strategies
After being postponed since 2020, the long-awaited Summer Olympics in Tokyo, is the most anticipated sporting event of the year. This July, the Games will captivate the world for seventeen days. The cultural global audiences will have over 7,000 hours of coverage across 41 sports and 339 medal events–including four new and two returning Olympic sports: surfing, skateboarding, sport climbing, karate, baseball and softball–available to watch.
Despite COVID restrictions lifting across many parts of the world the Tokyo Games will be unprecedented on many fronts. It marks the first time in history first time in history the Olympic Games were temporarily postponed for a reason other than war and is set to be the first programmatic one.
The Tokyo Games are being touted as the most digital, and accessible Games in history and expected to exceed the Rio 2016 Games' coverage and engagement that had lacklustre TV ratings, but delivered a digital experience of;
Double the coverage hours of TV (218,000 vs 81,500) across over 250 digital platforms
More than 9 million hours of content streamed on Olympic player, 1 million daily unique viewers for live streaming and on-demand
NBC exceeded 2.5 billion live streaming minutes (over 1 billion more than all previous Olympic games combined)
Record social media engagements – over 4 billion impressions
Fans will be there in spirit via devices, apps and channels
In an effort to protect the athletes and local fans, foreign spectators have been barred from attending live events. And while live event audiences have been limited to 10,000 local fans, the familiar roar of the crowds will be absent as cheering has been banned. Which means the majority of spectators will view the Games from their home country, taking in the Games and related content and events via digital means.
Fans are more than ready! The past year and half, driven by a global pandemic, we've seen the exponential acceleration of consumers' adoption of digital-first TV (via connected TV) and streaming service subscriptions. That said, most of the coverage will be consumed in a time-shifted manner due to Tokyo's time zone, which is 13 hours ahead of the US and 8 hours ahead of the UK.
In the United States, 61% of viewers expect to watch a lot of or some of the Games. While viewers in the United Kingdom, 17% said they're likely and 12% likely or very likely planning to watch. Nearly half of US viewers plan to watch the Games from more than one device–multi-tasking while watching as they text with friends, browse social media, play mobile games or search for Olympic content.
Carpe momentum – seize the moment
What does this mean for advertisers? That you have a golden moment to seize, one that is unprecedented in the history of the Olympic Games for digital advertisers.
For the first time, the majority of spectators will be watching the Games in a globally time-shifted manner, using a variety of digital channels that reach well beyond traditional TV. Audiences will be using a variety of devices, apps, and channels – facilitated by connected TV technology – that is expected to translate into thousands of hours more streaming and video replays than that seen on linear TV.
The Games' expansive digital coverage, coupled with home-based viewers armed with the technology to consume events and Game-related coverage where, when, and how they want, creates a tremendous opportunity for advertisers.
Specifically, this allows advertisers to reach viewers in the moment, letting them deliver targeted messaging to the right audience, in the right context, and in real-time.
Why is that important?
Because advertisements viewed in context are seen as much more relevant to consumers, and have been shown to result in dramatically higher click-through rates and conversions. Contextual retargeted ads, for example, yield 10x higher click-through-rates than a typical display ad.
When attention and alignment are part of your advertising strategy, ROI can be improved by as much as 30%. In other words, contextual targeting lets you achieve better engagement from your ads, leading to a higher likelihood that in-market consumers will take a desired action at a much more budget-friendly cost for your company.
And when you add the scale and scope of the Olympic Games to this opportunity, you have a recipe for some great results.
Using CTV advertising to your advantage during the Olympics
CTV is one of the fastest growing channels in digital advertising, and one that will play a pivotal role in how marketers approach the Olympics this year. In the US alone, 60% of marketers are shifting budget from linear to CTV, leading to an overall growth projection of $18 billion by 2023.
The reason for this is simple. Advertisers feel that CTV is more effective than linear, and that consumers respond positively to ad-supported CTV, making them more likely to take a strong action once they've seen that content. For example, consumers who respond positively with an ad on CTV are more likely to recommend, search for, or make a purchase from a specific brand than they are on linear TV.
When you loop this shift in budget allocation and sentiment back to the scale at which CTV will be used during the Olympics, you can appreciate the opportunity that advertisers have in front of them in the coming weeks.
Of course, scaling your advertisement with the volume of consumption expected during the Games is only one piece of the puzzle. You also need to make sure your ads are relevant. That's where contextual targeting with Peer39 comes into play.
Peer39 continues to expand our OTT-CTV data set, and now offers more than 1,000 contextual categories to advertisers. This is the largest pool of contextual CTV data available on the market at an unmatched scale.
Your campaign + contextual targeting + Tokyo 2021 Games
With the Summer Games no longer limited to traditional tv and expectations for them to be the most digital, the contextual opportunities are larger than ever.
Go for campaign gold and take advantage of real-time, in the moment experiences of the Tokyo Games fans by ensuring your ads reach them where they are amongst the vast and varied event related content and contexts. With the largest global scale advertisers can use Peer39 contextual categories confidently to;
Stay ahead of quickly trending topics and conversations in social media related to things such as unlikely candidates emerge as fan favorites or record-breaking results by leveraging our Social Predict categories to align your campaign with related content.
Target the content and contexts around the Games' sports, including new ones in 2021 with our specialized Olympic categories
Find suitable and safe environments for your brand while avoiding untrustworthy sites with NewsGuard
Here is a quick reference to Peer39 contextual categories for all things Tokyo 2021 Games
| | |
| --- | --- |
| Sports : Baseball | This category covers all content about baseball, which includes content on baseball games, athletes, teams, tournaments, equipment, leagues, and strategies. |
| Sports : Surfing | This category covers all content about surfing, which includes content on surfing competitions, surfers, surf culture, surf waves, equipment, maneuvers, and surfing locations. |
| Sports : Olympics | Content related to the Olympics. This category includes information about Olympics athletes, sporting events, schedules, equipment, mascots, medals and venues. |
| Mobile Apps : Mobile App Categories : Mobile Games Apps : Sports Games | Sports-related games, such as 3D Bowling, True Skate, and Madden NFL Mobile. |
| Mobile Apps : Mobile App Categories : Sports Apps | Sports-related apps, such as sports score keepers, fantasy team managers, sports news and game coverage apps, and more. |
| Travel : Travel Destination: Japan | Content related to traveling to Japan |
| OTT-CTV : Content Category : Sports | General content about tournaments, events, athletes, players, professionals in Sports, equipment and general sporting goods that cannot be classified in any of the sub categories. |
| OTT-CTV : Content Type : Cable TV-Channel : ESPN | |
| OTT-CTV : Content Type : Cable TV-Channel : NBC Sports | |
| OTT-CTV : Content Type : Cable_TV-Channel : Olympic Channel | |
| Reticle : Active | Content that is upbeat and lively, involving themes of sports, fitness, encouragement, go-getter attitude, and enthusiastically attaining goals |
| Reticle : Courageous | Content that is upbeat and lively, involving themes of sports, fitness, encouragement, go-getter attitude, and enthusiastically attaining goals |
| NewsGuard | Use NewsGuard categories to avoid untrustworthy news and misinformation sites. |
| Social Predict : Seasonal : Olympics Summer | For people interested in watching the Summer Olympics and related content across |
| Social Predict : Seasonal : Summer Activities | |
| Social Predict : Travel : Jetsetting | |
| Custom keyword category | Tailor made–create your own custom keyword category to leverage niche or brand specific keywords in context. |
If you're looking for a tool to help you carpe this unprecedented Tokyo Games advertising opportunity, look no further than Peer39. Boost your Tokyo 2021 campaigns with Peer39 contextual targeting categories, and reach viewers in the right context and in the right moment to increase your performance–everywhere you buy programmatic media.