Peer39 Interview: Joe Kyriakoza VP/GM Polk Automotive Solutions portfolio at S&P Global Mobility
We recently sat down with Joe Kyriakoza, vice president and general manager of the Polk Automotive Solutions portfolio at S&P Global Mobility - which produces best-in-class automotive audiences to help marketers connect more effectively with consumers.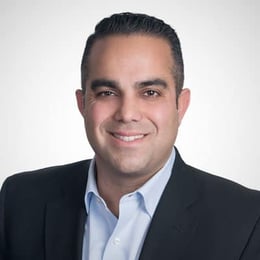 Can you give a bit of background on S&P Global Mobility and how its data works?
Our history goes back more than 100 years, when Polk began tracking vehicle registrations for the entire industry. Our organization has grown organically over time, and today is part of S&P Global – specifically S&P Global Mobility, a division dedicated to the automotive and mobility sector. We provide the most complete, accurate, and effective automotive data to the industry. In the U.S. alone, we have a complete view of vehicle ownership across 127 million households going back 30 years, along with hundreds of other data sources that allow us to see the complete picture of every car-buying consumer household.
The Polk Automotive Solutions portfolio is built from the core data sets of Polk Audiences, used for marketing activation, Polk Signals, used for measurement and insights, and Polk Data Services to help amplify and augment your first-party data assets.
These solutions cover the complete consumer lifecycle. From consideration to purchase to ownership, servicing, and then trade-in/disposal.
In making your categories available to Peer39 users, you're using cookieless data. Can you explain what went into that process?
The data is built on vehicle registrations and point-of-sale records from dealers and manufacturers. Our predictive models are based on proprietary analytics leveraging the data, and then scored against a privacy-compliant marketing data spine. Our data is not dependent on cookies, allowing us to build Match ID universes directly with our partners.
As a market leader in the automotive data industry, what sorts of challenges and changes are you seeing?
Our great supply-chain crisis is causing challenges throughout the industry, affecting manufacturers, suppliers, dealers, and consumers. Our forecasts suggest this crisis will likely continue through 2023 before we see significant increases in vehicle production.
Industry supply has been below 30 days for an unprecedented 15 consecutive months and counting. This is having a significant impact on brand loyalty — now below 50%, which is an eight-year low.
Additionally, as incentive messaging dries up, dealers are shifting to vehicle acquisition and service campaigns. We are also seeing an uptick with Data Enrichment interest, where smart marketers are strengthening their CRM programs and first-party data.
And of course, the EV transition where impact to messaging and customer segments will be enormous with EV, Hybrid, and gas vehicles all vying for consumer interest, demand, and lot space. The investment shift by most OEMs is clearly trending toward electrification.
How are you helping brands with data-specific, privacy-safe solutions? How specific can your categories be?
One of the beautiful things about our data is that it is Driver's Privacy Protection Act-compliant and our clients can have complete confidence that they are protected. We like to say our products were built with privacy and standardization by design, even before it was fashionable. With privacy covered, we are the best in the business at creating the most relevant audience for every marketing opportunity. If you're launching a vehicle, we can develop the right audience strategy to support that. If you're trying to reach consumers that are a year from purchasing a vehicle, we've got audiences ready to support that plan. Or if you simply want to reach the most qualified, highest-intent consumers ready to buy, we can deliver that as well.
What are some interesting non-automotive brand usages you've seen or would like to see?
The massive investment happening in shopper marketing and retail media networks is aggressive and very intriguing. Traditional brick-and-mortar businesses like Walart, Target, Home Depot, and many others are realizing the true value of their data on consumer shopping and buying patterns. It's an industry unto itself that will likely eclipse the billion-dollar mark soon and is demonstrating how smart data and marketing practices can effectively connect the dots between physical and virtual storefronts.
Similarly, the auto industry is making major investments to improve the consumer buying experience by providing ecommerce tools and solutions to get close to purchase via OEM and dealer websites. It's exciting all around.
Thanks so much for speaking with us, we're glad to have you as a part of our Contextual Data Marketplace®.
We love having thoughtful discussions on the Marketplace and appreciate Peer39 for providing the forum and including us. Looking for ways where we can collaborate and bring our technologies together to help automotive marketers achieve the best possible performance is incredibly valuable.
Our goal as a data provider, is to help automotive marketers improve their relationships with current customers, while also introducing them to their next customers. We are passionate about this mission and are doing all the hard work to meet our clients where they are and making our data available everywhere applicable.
For anyone interested in learning more about S&P Global Mobility solutions, including its Polk Automotive Solutions portfolio, you can follow on LinkedIn here or email automotive@spglobal.com. Access more information about their offering through the Peer39 UI.