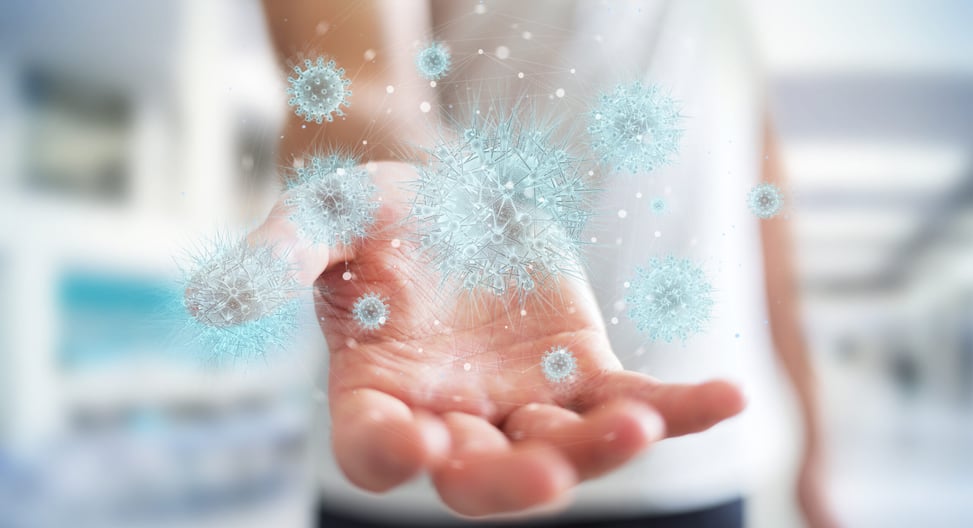 Impact and options of the "coronavirus": Three phases for advertising strategies
The outbreak of coronavirus and its pandemic status have had an abrupt progression in the news. Since January, we've seen the topic evolve from regular updates on news about somewhere else in the world to become the overwhelmingly dominant story in every country.
This massive growth in volume of coverage has created a backlash among advertisers who are responding by creating comprehensive block lists of terms related to the virus or, in more extreme cases, ceasing all ad spend on publishers.
This kind of extreme reaction is meant to prevent the kind of damage to their brand's reputation that can occur if their ads are served on pages alongside articles about the tragedy and economic impact of this global crisis.
It's understandable that advertisers are wary. Every brand seeks to be seen in an environment that offers brand-suitable content that is also brand-safe: No business wants to appear to be capitalizing on a global crisis or damage their brand as a result of negative association.
Over the past few weeks, along with everyone else, we've been watching the story unfold. What we've seen emerge can be explained in phases relating to an increasingly prominent world-wide threat affecting every person and business across the globe.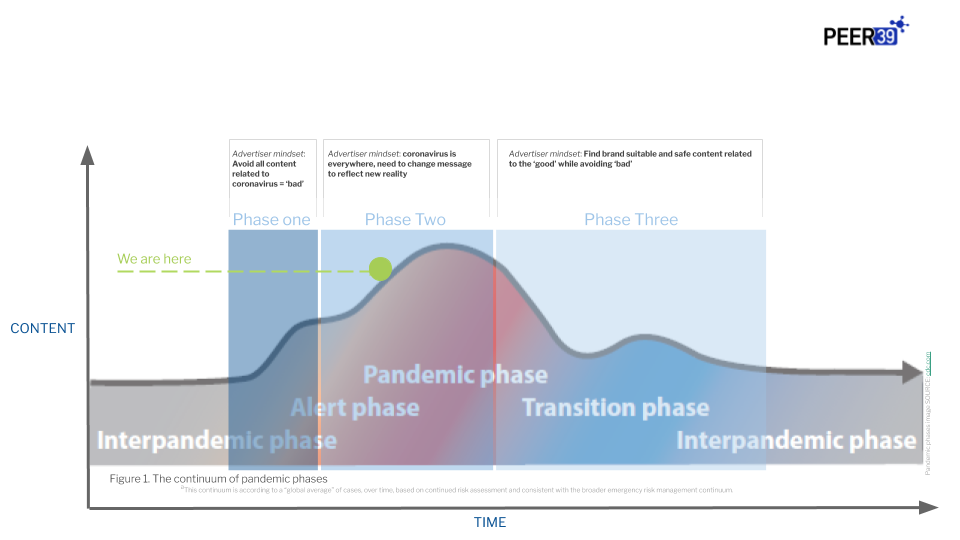 We're seeing three distinct phases to the coverage as the situation develops:
Phase One: Awareness of the "coronavirus" problem
During the first phase, there was news and reporting focused on the facts around the virus and precautions. As it evolved to a global challenge around how to stop coronavirus from spreading, agencies and advertisers' mindset was 'oh sh*t.' The initial belief and corresponding response was that coronavirus = bad, and is to be 100% avoided, adding Covid-19, pandemic, epidemic, MERS, SARS, etc. to custom keyword blocklists at lightning speed.
Phase Two: Reacting to widespread impact
The second phase brought the reaction: closing down schools, gyms, restaurants, businesses, borders, canceled events, travel bans and the resulting financial crisis. The coverage of the coronavirus pandemic is the top story globally, extending beyond news, facts and government actions.
Helpful and practical stories are emerging around working from home, homeschooling, use of technology, tips on social distancing or managing life during these stressful times where coronavirus is merely a reference, pointed to as a root cause.
This is the kind of content that is relevant and useful to its reader and can provide advertisers a meaningful environment to advertise.
The mindset of advertisers is starting to shift as they acknowledge that coronavirus is everywhere and they need to change up their messaging and approach to reflect the new reality.
However, while the blunt-instrument strategy of keyword block lists is intended to keep a brand safe from any of the tragic pieces of coronavirus content, there's an unintended result of blocking these words outright:
Advertisers are essentially blocking themselves from the vast majority of content, and stories like these, where their brands and messages are relevant, simply because a single instance of coronavirus is identified within the page.
Phase Three: The humanity of the crisis
A third phase will start to emerge. It will bring stories of hope, compassion, community and humanity as events continue to unfold and the new 'normal' of life begins. We will learn of how businesses stepped up with crowdsourced solutions for the global medical supply chain shortages, of heroes during a time of great uncertainty, changing behaviours, communities coming together in ways that less than a month ago would have been unfathomable and more stories about when humanity is faced with its greatest challenge.
This is the phase where we see that people bring out their best when they see a need. And in this phase, agencies and advertisers will want to find brand-safe and suitable content related to the "good" aspects of coronavirus while avoiding the "bad."
This is why agencies and their advertisers like you need better tools that enable them to be part of those conversations, stories, and content in ways using keywords alone are failing them. The quick response of advertisers to create manually updated keyword blocklists deprive advertisers of reaching an audience in the right context alongside any relevant content.
With keywords and a blocklist, one single reference to coronavirus on a page results in it being blocked 100% of the time. With contextual targeting strategies, the approach is more refined and precise through the understanding of the entire page–not just the epicentre.
Contextual targeting understands the words in relation to one another, sentences, paragraphs, the density of occurrence and more. Coronavirus and other keywords are just words. It's the content around these words that give them context, sentiment, and relevance. As an example, there is content highlighting recipes to make with your children while we're all confined to our homes, or tips on how to work efficiently from home for those navigating being remote for the first time–because of coronavirus, not about it.
What to do now: Suggestions to align goals and content suitability strategy
Take a fresh look at their keyword blocking strategy. Having coronavirus in a keyword list will keep you off of any page with a single reference to the keyword "coronavirus" or related terms you've included in your list. Use only if the goal is to avoid and not be anywhere near these keywords or terms, which are essentially everywhere right now, and may limit reach and delivery. Understandably, most buyers are still using this tactic because of the rush to ensure they're message was protected prior to making any messaging decisions.
Build a layered contextual plan for phase two and start thinking about phase three: Think about adjacency by way of categories. For example, an advertiser may be ok with all coronavirus-related content in parenting, but not want to be next to coronavirus references in politics. Working with categories and advanced suitability tactics will enable buyers to be on the right suitable content with the multiple layers of targeting needed.
Make sure to connect your pre-bid with post-blocking tactics. When advertisers begin moving out of phase one and low risk-tolerance settings, such as keyword-only block lists, they should ensure their pre-bid contextual targeting strategy is aligned with their post-bid strategy. If their verification post technology maintains more low-risk tactics, such as blocking the keyword "coronavirus," yet their pre-bid targeting is based on more suitable targeting, they risk blocking your advertising on the back end after they buy the impression.
As advertisers adjust to the new normal brought on by this coronavirus pandemic, building an advertising strategy that provides agility for the fast changes that are happening is an important opportunity to leverage.
Contact us today for your complimentary custom strategy recommendations to start implementing new and enhanced Peer39 categories for coronavirus. Reach out to PeerAM@Peer39.com