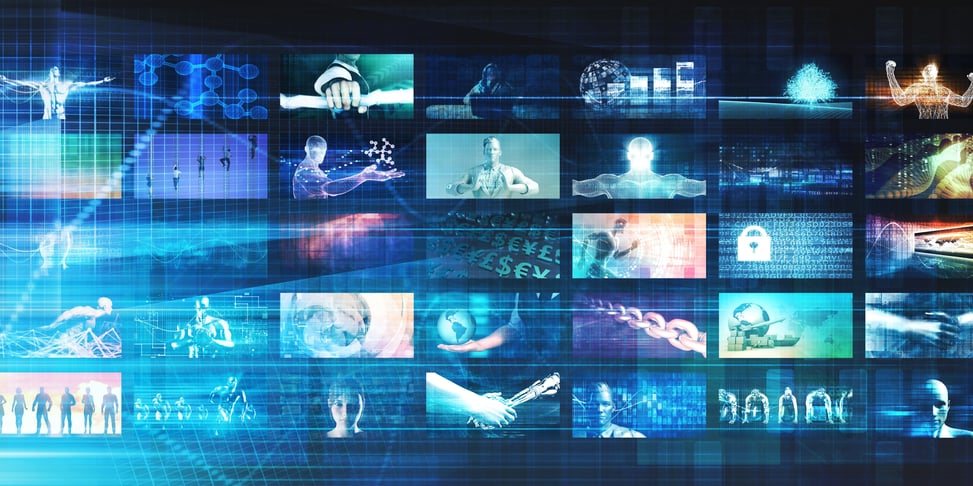 How Connected TV Advertising Works
With programmatic inventories shrinking, and costs rising, understanding how connected TV advertising works will help you maximize your return on investment from this growing medium.
CTV has exploded in popularity in recent years, becoming the fastest-growing longform video channel in the marketplace. In Q1 2022, 92% of US households were reachable via connected TV programmatic advertising, indicating that more and more users have adopted the cord-cutter lifestyle.
This has sparked a major spike in ad spend being funneled toward CTV and OTT that would normally be earmarked for linear television. In fact, ad spend on CTV and OTT grew 34% in 2021, compared to just 7.4% for national broadcast and cable TV.
The growth in popularity is here, but so is increasing spend and complexity as this video advertising market grows and becomes more competitive. We'll help you understand some of those trends.
How much does connected TV advertising cost?
The increasing popularity of streaming content and OTT devices has effectively leveled the playing field for SMBs. Television content is now more accessible at a more modest cost, allowing them to compete with enterprise brands who have dominated the traditional TV advertising space.
It's now possible to advertise against premium streaming content with a modest starting budget—as low as $2000 per month, for example. The programmatic nature of this advertising means that digital marketers can adjust and tailor their spend depending on their needs and performance.
That's the good news. The bad news is that shrinking viewership on linear TV, and comparatively larger audiences on CTV and OTT, is putting a strain on available inventory. That competition is pushing TV ad prices upward across the board.
In the case of linear TV, audience levels have dropped at a faster rate than ad spend, meaning more dollars are chasing fewer views. On CTV, inventory scarcity combined with granular control over ad placements and audience insights results in a higher cost-per-mile (CPM) than linear TV. In fact, it's estimated that CPMs for OTT and CTV were 28% higher than those of linear TV in the US for Q3 2021.
Of course, CTV and OTT (over-the-top) are not entirely the same thing. As such, ad costs will vary between these two networks.
CTV advertising refers to ads that run through connected CTV devices like smart TVs, OTT devices (Amazon Fire Stick, Apple TV, Roku, or Chromecast) or gaming consoles. These are internet-connected devices that customers use to watch TV or video content online through on-demand streaming services like Netflix or Hulu.
OTT advertising, on the other hand, is the general term for ads that run on film and TV content that plays over the internet. This is content that is delivered across many different devices, without the need for traditional broadcast, cable, or satellite providers.
The cost of advertising through CTV hovers around $35 to $65 CPM, and around $25 to $40 CPM for OTT content. This is higher than the average price for linear TV due to the more granular and specific audience targeting and insights.
The figures above are, of course, ballpark numbers. There is a lot that goes into determining the exact cost of CTV and OTT advertising, including:
Your maximum budget
The ad type
The OTT or CTV advertising platform
Your bidding selection
Your target options
The good news is that CTV and OTT both provide much more flexibility into what types of ads you show, where and when you show them, and what you ultimately pay for.
Some platforms and tools now allow you to track and adjust bidding in real-time based on:
Cost per view
Audibility and viewability rates
Cost per completed view
Percent complete
That's on top of adjusting total budget, and granular bid controls for specific target groups and demographics. So while costs are rising, the efficacy of CTV and OTT ads is much easier to demonstrate—with the right tools—than linear or traditional TV advertising.
What are the pros and cons of connected TV advertising
Like any form of programmatic advertising, there are benefits and tradeoffs to running ads on CTV. Let's look at both sides of that coin.
Pros
CTV does not require exorbitant budgets like its traditional broadcast television cousin. This makes it a much more accessible ad-supported platform for SMBs and teams with more modest budgets.
This, in addition to the programmatic nature of CTV advertising, offers the following benefits:
The ability to test and learn with different TV ad formats at a fraction of the cost of broadcast TV
Deeper and more granular targeting, ensuring that you reach the right people, at the right time, and in the right locations
The ability the measure the impact of your campaigns with both digital and traditional metrics
Granular brand safety controls to ensure that your ads appear next to only content that you want to be associated with
CTV's granular targeting, high viewability rate, and near perfect ad completion score make it one of the best programmatic channels for brand awareness and engagement.
Cons
While CTV advertising does offer numerous benefits, there are some cons that advertisers need to be aware of before allocating budget to this medium.
One major downside of advertising on CTV is that you typically end up running ads on blind inventory, making it hard to track what types of content and devices your ads are appearing on.
Although consumers are quickly adopting CTV, ad targeting and performance tracking isn't yet straightforward.
This is caused by numerous issues, including:
No simple, single way to buy CTV ads
Fragmentation in the types of devices and platforms on which users view content
The prevalence of fake CTV content in the form of screensavers and wallpapers
Broad spec requirements to create content for numerous devices and playing windows
Shifting news cycles and context, and the rise of extremist content and fake news
All of the above can make it quite difficult to ensure that the ad space you are buying is inline with your brand suitability requirements. Fragmentation also makes it difficult to track where your ads are being shown, and alongside what type of content.
How contextual targeting can help
Contextual targeting is one technique that is growing in popularity for CTV advertising. This lets you target specific content that is relevant to your ads and brand using metadata related to specific programs and channels.
Advertisers who use contextual targeting tools for CTV can leverage data from user profiles to create hyper-targeted and optimized ad campaigns that show ads in the right context and on the right devices. And, even better, this type of targeting is possible across CTV and OTT devices.
Are your connected TV ads running on the wrong content?
As mentioned, brand suitability is a major concern for CTV advertisers. There's often an assumption that, if you're advertising on CTV platforms, you're placing your ads alongside premium content. That's not always the case.
For example when you check the CTV box in your demand side platform (DSP) interface, there's actually no guarantee that you'll only get premium content. You might also wind up showing ads on mobile devices, mobile apps, screensavers, or small streaming windows on websites.
It's important, therefore, to make meaningful decisions about where you run ads, and have the ability to transparently track and prove those placements. There are a variety of techniques that help you do this.
First is contextual targeting, as described above. The second are brand suitability controls that give you safety from fake content, specific no-go categories and content types, and non-OTT apps.
Contextual targeting tools should offer cookie-free planning and targeting tool sets that let you target users based on specific contextual signals. These signals should be based on what those users are watching at an exact moment in time to ensure contextual relevance and suitability. This helps to alleviate major issues with CTV advertising like transparency, fragmentation, insufficient inventory data, and inefficient buying processes.
On the brand suitability side, the explosion of CTV has created an urgency for advertisers to gain access to the same options that other digital advertising platforms offer to ensure relevance and safety. The best brand suitability tools are CTV give you access to pre-bid contextual categories that are purpose-built to help you avoid unsafe, unknown, or unverified channels during campaign setup.
Rounding out the requirements for CTV advertisers in transparency. You need to be able to confidently and reliably track and monitor where your ads appear, how much engagement they're getting, and what your ROI is from this channel. That comes down to having the proper tracking tools.
How to track your connected TV ad performance
Transparency during planning, launching and auditing your CTV ads is critical to ensuring that you maximize your spend on these platforms. Ideally, you'll want a toolset that enables contextual planning using defined pre-bid categories and transparency and attribution tools that highlight the performance of ad placements and content types.
With a tool like Peer39, CTV advertisers gain this deep granularity on their planning and reporting capabilities.
This granular transparency reporting includes the ability to track:
Budget and spend
Impressions
Cost per action
View through conversions
CTV channel
Show-level data
Content categories
Production type
OTT service and device
Ad starts
Ad complete
Ad and video completion rate
Number of ads per show or channel
Transparent reporting and planning lets you effectively demonstrate the value gained from CTV campaigns. This ensures reliability in your reporting data, and better-informed decision making about future ad spend through CTV.