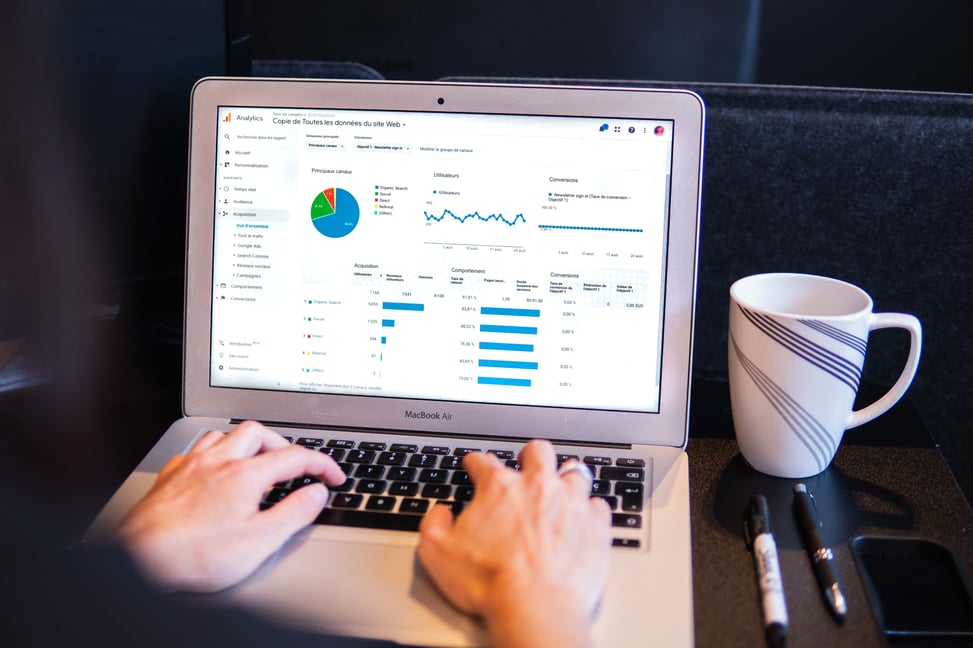 What Makes Contextual Traffic Unique?
Programmatic ad spend is continuing to grow, with budgets expected to hit $725 billion in 2026 (up from $418 billion in 2021). Contextual traffic is leading the charge, growing at a CAGR of 18.75% with an estimated global ad spend of $631.44 billion by 2027.
It's no secret that this growth in ad spend is primarily driven by one thing: third-party cookies. A survey conducted by Statista in 2021 found that 85% of senior ad executives expected their ad budgets to increase because of changes to the deprecation of third-party cookies.
Ad inventories are shrinking for proponents of behavioral targeting, causing costs to rise. Data privacy regulations like GDPR have accelerated this decline in inventory. And, Google's postponement of their third-party cookie phase out—now slated for H2 2024—has thrown even more uncertainty into the mix in terms of what to do next in programmatic advertising.
For advertisers looking for a solution to rising behavioral advertising costs, contextual traffic has been a lifeline. Contextual advertising is growing in popularity across websites, apps, and CTV, and ad budgets are following suit.
For those new to contextual targeting, this article will serve as a primer
What is contextual targeting?
Contextual targeting is a tactical subset of contextual advertising. It's the process by which advertisers target users and place ads based on the type of content they are consuming on a website, app, or CTV video.
Contextual advertising—a subset of digital marketing—is based on the environment in which an audience is browsing and consuming content. By focusing on what the user is doing and seeing, rather than what they've done in the past, advertisers can ensure that their ads only appear alongside content that is relevant to the user at the time that it's shown.
As a form of programmatic advertising, contextual targeting is typically done through an ad network. This segments contextual ads and target groups based on pre-selected parameters like:
Keywords. Specific keywords or phrases that appear on the web pages that the advertiser eventually targets.
Topics. Broader categories into which a campaign and display ad creative would contextually fit.
Negative keywords. Specific keywords that the advertiser does not want their ads appearing alongside.
Negative topics. The same as negative keywords, but for full topics or subtopics.
Location and language. To ensure that advertisers are targeting the right audience, in the right language.
By aligning ad creative with the content that the user is already consuming, advertisers create a more genuine connection with the reader in a timely manner.
Here's an example of contextual advertising, and of how it works.
Source: Criteo
Note the contextual relevance between the running shoe ad and the topic of the article. It's highly likely that someone reading this article will, at some point, be on the market for a new pair of running shoes. By capturing this ad placement, Saucony puts their brand and product in front of the right person, at the right time.
Contextual advertising vs. behavioral advertising
The key difference between contextual and behavioral advertising is when targetable user actions take place.
Behavioral advertising targets users based on past browsing behavior. Contextual advertising is based on the context of a user's real-time content consumption.
When targeting users based on behaviors, advertisers segment based on "digitally observed" actions like websites visited, ad clicks, click through rate (CTR), and items purchased or downloaded. They do this by leveraging automations and behavioral data that's gathered from a variety of different sources.
These behavioral data sources include:
Zero-party data. Proactively and deliberately given to a brand through data collection plays like communications preferences, optins, or on-site quizzes.
First-party data. Collected by companies through interactions with their own users. Think data collected from leads, social media, emails, and chatbots.
Second-party data. Someone else's first-party data that is sold or given to a company through partnerships or data exchanges.
Third-party data. Traffic and user data that is collected, segmented, and sold through public data exchanges like DSPs.
Third-party data is by far the most widely used source for behavioral advertising. That's because cookies are third-party data, and readily available through platforms like Google Ads and Google Adsense.
In the context of CTV, behavioral targeting leverages data from user profiles to create target ad campaigns based on consumption, search, view time, language, and any other available preferences.
Behavioral targeting has been the norm in the industry for some time. Its entire premise is based on the assumption that past behavior informs future actions. This, of course, is not always the case.
This is where contextual advertising comes in, and fills a major gap.
As mentioned, contextual advertising is based on the context of a web page or other piece of relevant content. This type of targeting allows advertisers to show timely and relevant ads alongside content that the user is already interested in.
Unlike behavioral targeting, contextual advertising is cookie-free and is generated using page, show, or channel-level analysis of content, keywords, and topics.
For CTV, contextual targeting can be used to target at the show or channel level. Or, it can leverage the metadata for specific programs like content title, show title, distribution network, topic, type of content, and so on to create highly granular and contextually-relevant targeting.
What makes contextual traffic unique?
Because of the nature of contextual targeting, the traffic that advertisers get from these campaigns will lack behavioral data about users. That means that traditional techniques like retargeting are off the table for contextually-generated users (unless they opt into cookies on your website).
This means that advertisers will need to work harder to create valuable and relevant experiences for contextually-generated users once they land on their website. They'll also need to pay close attention to:
Content type at source
Keywords at source
Channel at source
Device usage (desktop, iOS, Android, etc.)
Understanding where each stream of context came from—and what type of content they were consuming before clicking through—is critical. This will dictate the messaging, conversion offer, and navigational next steps that should be offered to the user onsite.
As a result, advertisers using contextual targeting will likely need to experiment more frequently with different ad and landing page copy to test what resonates best with their target internet users.
Depending on the contextual data provider, advertisers may also have less data points to monitor and analyze. Ideally, advertisers should find a contextual partner who can provide transparency around where their contextual ads appear, who the audience is, and what the down funnel results are.
In the context of contextual CTV advertising, Peer39 can help advertisers track metrics like:
Ad complete impressions
Ad completion rate by channel
Ad start impressions
Age/gender of audience
Channel
Content categories
Number of ads per channel
Number of ads per show
OTT service
Production type
Show
This contextual data—overlaid with accompanying sales and conversion data—can help inform the type of traffic, messaging, and creative that performs best at scale.
Is contextual targeting cost effective?
When advertisers focus on understanding the context and mindset of people they are trying to reach, the result is alignment and relevance between ads and context. That creates a better experience, deeper brand affinity and, ultimately, more engaged prospects and potential customers.
Context drives relevance which, in turn, increases attention. It's a win-win for advertisers and end users.
But, the benefits go deeper than that.
Research shows that, when attention and alignment are part of an online advertising strategy (which is the name of the game in contextual targeting), ROI can be improved by up to 30%.
There's a number of reasons for that, ranging from efficiencies and optimizations in the ad-buying process to stronger engagement from the end user.
On the efficiency front, contextual ad targeting allows advertisers to maximize their ad budget by bidding on high-value impressions that boost click-through rates. They don't have to worry about bidding on shrinking inventories, or guessing about which topics of behaviors signal buyer intent.
For end users, the positive impact of contextual ads is indisputable. According to a recent study from IPG Media Lab, surveyed CTV consumers shared the following eye-popping feedback about contextual ads:
Contextual ads increased their purchase intent by 63%
73% of surveyed consumers said that contextually-relevant ads complemented the overall CTV experience
71% of consumers said the ads they saw were relevant to the video, and that they recognized when it was
Consumers targets at the contextual level were 83% more likely to recommend the product in the ad
When the sentiment of the ad and content were aligned, consumers said they were 83% more likely to purchase the product, and 300% more likely to recommend it to a friend of family member
These statistics are staggering, and the takeaway is clear. Contextual targeting is not only cost effective, but it dramatically increases the level of engagement and interest in ads and their associated products.
Contextual advertising targets audiences in seconds
With the right contextual targeting partner, advertisers can intelligently plan and deploy contextual ads to target audiences in seconds, and transparently measure the results.
For those in the market for a new contextual toolset, we recommend looking for a partner that can offer strong solutions for:
Transparency
Brand suitability
Contextual planning
At Peer39, for example, our CTV toolset offers transparent reporting into ad placements, show and channel-level context, content categories, OTT services, and production types. More importantly, it lets users track the number of ad placements they receive, the ad completion rate, and the ads shown per channel or show.
Brand suitability controls are also critical to ensuring that ads appear alongside the right content that won't harm the advertiser's brand. Peer39, for example, allows advertisers to create negative keyword and category lists to help them avoid specific topics, news events, fake content, or anything else that doesn't align with their brand identity.
Lastly, advertisers need a powerful contextual targeting engine that plugs into their DSP of choice for fast deployment. Peer39's Contextual Data Marketplace offers a wealth of pre-built contextual categories and keyword lists to help advertisers get up and running quickly. And, we've partnered with dozens of data partners to help extend the pipeline of data that's available to users through their DSP.
Interested in trying Peer39 for contextual targeting? Create your trial account today.