Black Friday and Cyber Monday mark an influx of major consumer holiday spending
By looking at data compiled over the last few years, studies have found that not only did transaction volume grow year over year for these two coveted days, but transaction value did as well. Experts predict that this year will be no different. Forecasts are coming in over $140 billion, with e-commerce sales growing from 14% to 18% – an increase to the 11.2% recorded in 2018. Shoppers are expected to spend close to $1,500 per household during this holiday season. With the surge in spend also comes the exponential uptick in digital traffic around content around these two very big days of the year. The chart below illustrates the traffic for Black Friday & Cyber Monday content (from 2017 to 2018), and traffic volume essentially doubled in 2018. We can anticipate that there will be a similar trend in traffic as November 26th approaches the kickoff of consumer holiday spending. In fact, if you look to the right of the chart, you can see it is already starting.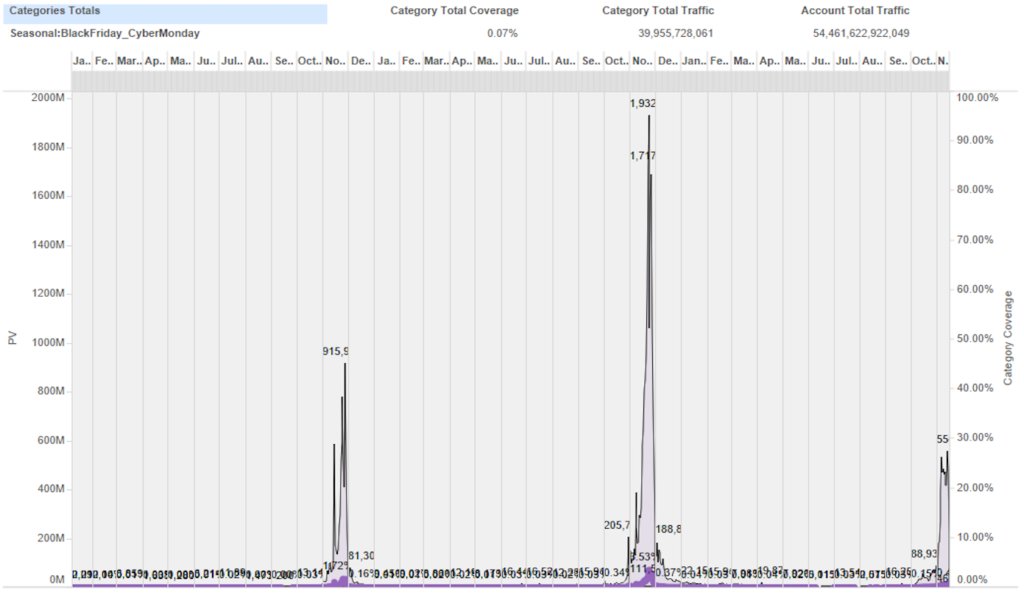 In addition to capitalizing on contextually relevant seasonal content, it's important to do so in an environment that is also safe for your brand and of high quality. When it's eminent that the end consumer sees your ad, you want to make sure that your ads are displayed within an environment that is content rich, free from ad clutter and excludes parked domains.
In addition to the most relevant seasonal content segments to target such as Black Friday/Cyber Monday, Holiday Toys, Holiday Shopping, Holiday Travel, Thanksgiving, Christmas, etc, there is also the importance of being seen where surrounding content sentiment is positive. As consumers are eagerly researching the latest reviews on the products that they're interested in purchasing for themselves or gifting for others, the constructs of an affirmative appraisal definitely help to push him or her that much further down the purchase funnel. Conversely, a negative assessment can turn off a potential consumer from making a purchase. Something to consider when crafting your holiday campaign.
Want to learn more about our semantic technology and how you can use it to launch a successful holiday campaign?