Reduce the threat of fake news, misinformation with Peer39 and NewsGuard
Peer39 and NewsGuard have teamed up to help.
The internet has democratized publishing to the point where anyone can purchase a domain and spin up a website with no real oversight to what they're publishing – and that ease extends to social media. In March 2018, MIT released the results of the largest ever study on fake news. The findings showed that on Twitter, the falsehoods made the rounds faster than authentic news stories.
Concerns about fake news have been growing in recent years, but misinformation can spread just as quickly with unintended consequences. We're seeing this challenge in real time with the spread of health misinformation regarding the novel coronavirus (Covid-19) pandemic.
Advertisers and the proliferation of fake news
Fake news sites look like their real counterparts. They cover the same topics. They have similar news cycles. And they take advantage of programmatic advertising automation and scale to further propagate misinformation and false news across topics, particularly health care and politics.
This creates a problem for media buyers and brands. You want to ensure your ads are seen by the right people, in the right context, and alongside credible, quality content that won't create a negative association for your brand.
The quality of the environment matters
Current events have led to faster news cycles with more stories, and that means publishers have increased page volume. In our January Benchmark report, the average daily volume of bid requests in the News category was 1 in 5 pages. Just 2 months later in March, that jumped to 1 in 4 pages.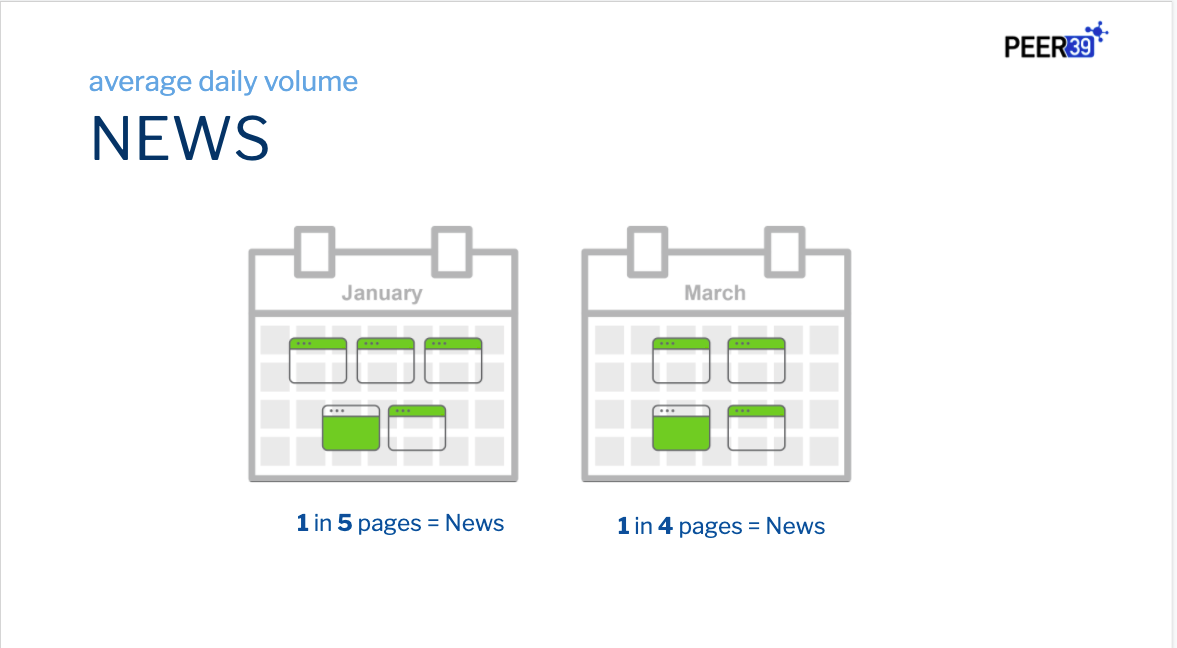 However, the focus for many advertisers has been brand safety and suitability, leading to extensive use of block lists as a safeguard. This is understandable given the limited options around identifying publishers that share your brand view or beliefs or determining the credibility of the reporting.
So how do you ensure your ad dollars aren't inadvertently funding content that doesn't align with your brand?
Content credibility ratings from NewsGuard
Because the environment matters so much, we've partnered with NewsGuard to bring additional data to the Peer39 marketplace to give you greater confidence in the quality of content running alongside your ads.
NewsGuard provides a human-audited scorecard for global news publications, with ratings of over 4,000 domains. These domains account for 95% of news and information engagement across the United States, the United Kingdom, France, Germany, and Italy.
You can leverage NewsGuard's categories to ensure your ad dollars aren't going to sites that specialize in fake, sensational, hyperpartisan news, or even health misinformation.
Journalist-reviewed and rated news and information
NewsGuard's team of trained journalists audit specific publishers and score them against a pre-defined list of 9 weighted criteria. Each criterion is worth a number of points out of 100. A site with a score of 60 points or higher receives a green rating for "trustworthy," meaning it generally maintains basic standards of accuracy and accountability.
With NewsGuard, the analysis isn't handled through machine learning or algorithms, and the analysts live and work in the regions of the publications they review. Since fake news is designed to look authentic to people consuming the content, it requires a human to identify the trustworthy, credible, and responsible news sites.
This addition of NewsGuard to the Peer39 offering brings on a new dimension to the existing features and protections around content appropriateness you already love about Peer39.
Confidently align your brand with news content
Now more than ever we know the value of quality, credible journalism. Contact us today to learn more about how you can leverage these new categories from Peer39.