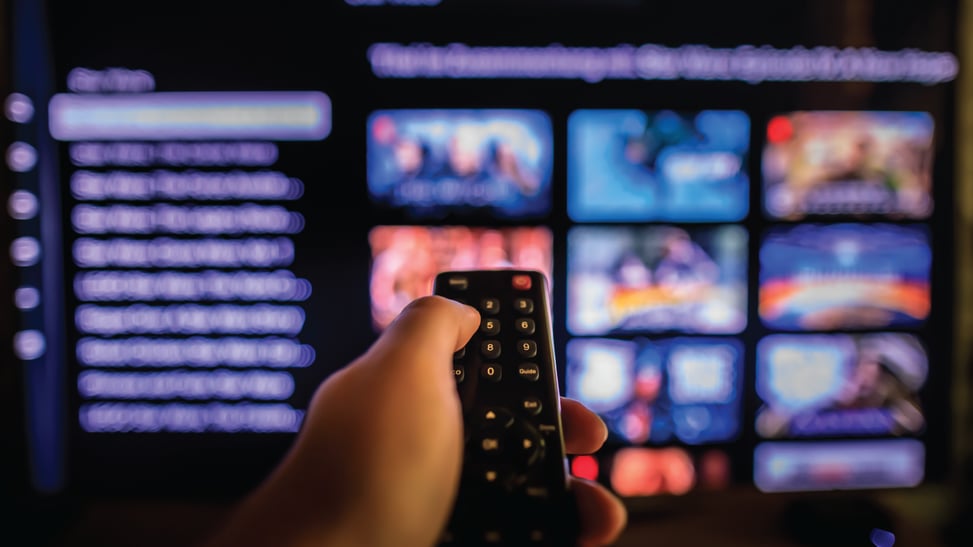 OTT vs CTV Advertising: Similarities, Differences and Opportunities in 2023
Since the start of the pandemic in 2020, OTT video has seen a dramatic rise in popularity and use across the world. CTV and OTT was once seen as merely an alternative to traditional cable and other linear television platforms amongst a small contingent of cord-cutters. Now, they are the industry norm.
Driven by a combination of lockdown measures, improvements in internet connectivity, and the widespread adoption of connected TV devices, this rise has sparked a significant opportunity for digital advertisers.
This guide will walk you through the similarities, differences, and overlaps between OTT and CTV, and discuss the opportunities and challenges facing digital advertisers who aim to use these platforms as part of their ad campaigns.
What is CTV?
Connected TV (CTV) refers to any device that connects to—or is embedded within—a television to support video content streaming over the internet.
It's important to emphasize this definition when comparing CTV to OTT. To emphasize, CTV is the internet-connected device that a customer uses to watch TV or video content online through a streaming platform.
Examples of CTV
There are three categories of devices that can be classified as CTV. They include:
Smart TVs. These are TVs with built-in internet connections and the ability to either stream video natively, or download apps to do so. No additional equipment—apart from apps— is required to stream videos on the internet.
OTT devices. These are devices that plug directly into a non-smart TV that themselves connect to the internet, thereby enabling apps and video streaming to be used on that device. Examples of OTT devices include Amazon Fire Stick, Apple TV, Roku, and Chromecast.
Gaming consoles. Examples include Nintendo Switch, Xbox, and Playstation. These consoles act as connected devices with built in app stores that enable streaming video content.
While we did mention OTT devices, in this list, it's important to delineate the hardware from the software. OTT devices enable a device to stream OTT content. They themselves do not constitute OTT.
What is OTT?
OTT stands for over-the-top, a term taken from broadcasting that explains the delivery method for film and TV content over the internet. OTT platforms deliver content across many different devices (i.e. CTV devices) without the need for traditional broadcast, cable, or satellite providers.
Content is delivered through OTT applications in either a streaming or video-on-demand (VOD) format, making it highly accessible and affordable across many connected devices.
Customers only need an internet connection and a compliant device that can support either an OTT app or browser window to watch OTT content, Devices include smartphones, desktops, laptops, and connected TV devices that are compatible with OTT apps.
Examples of OTT
As mentioned OTT content is delivered to internet-connected streaming devices through a variety of channels or video streaming services and apps. These services and platforms employ one of three monetization models that dictates how users access information.
These models include:
AVOD. Ad-supported video on demand, and some include ad-supported OTT linear services. Examples include YouTube, TubiTV, Amazon Fire TV stick, Roku, Plex, PlutoTV, Crackle, and Hulu.
SVOD. Subscription-based video on demand refers to paid access to a library of video content. Examples include Netflix, Prime Video, Disney+, Apply TV+, Hulu, and NBC Peacock.
TVOD. Transactional video on demand refers to rentals or purchase of TV series or seasons. Examples include Apple TV, Amazon Prime Video, Vudu, and Google Play
According to Statisa, the revenue share in the OTT market splits as follows:
51.8% comes from AVOD
40.16% comes from SVOD
5.1% comes from TVOD
3.16% comes from video downloads
The diagram below illustrates how these OTT services and devices interact to create the streaming and video on-demand services that we all know and love.
What is OTT and CTV advertising?
OTT advertising is the process by which digital marketers service ads to clients within video content. CTV advertising, therefore, allows brands to reach their target audiences through streaming and video on-demand platforms on smart TVs, OTT devices, and gaming consoles.
OTT and CTV advertising helps marketers reach new audiences at scale, and connect with them across numerous devices.
The benefits of OTT and CTV advertising
OTT content is an increasingly attractive option for digital advertisers due to its rapid speed of growth, strong consumer adoption, and the level of attention that can be achieved from embedded video ads.
CTV advertising, by extension, lets those same advertisers connect with audiences at various times of day, on various devices, and in various settings and contexts. And because CTV advertising is digital, advertisers also gain access to familiar targeting levers like geo- and audience-targeting. This affords a high level of experimentation for advertisers to learn which formats and targeting parameters for TV ads are most effective for their audience at a fraction of the cost of linear TV.
Trackable metrics for OTT and CTV advertising include:
Reach
Completion rate
Audible rate
Viewability
Attribution
Cost per mile
In general, advertisers see the following benefits from CTV and OTT ads compared to other digital platforms:
Higher viewability
Near perfect ad completion
User-controlled viewing experience
Cross-screen targeting
Stronger brand awareness and engagement
The graph below, for example, shows video completion rates across different devices and environments.
The challenges of OTT and CTV advertising
Of course, while OTT and CTV are both growing rapidly, TV advertising through these platforms and devices is not without its challenges.
Ad targeting through CTV, for example, is not straightforward. There is currently no simple, single way to buy ads for CTV. Instead, advertisers have to decide whether to buy from the content owner (video publisher), TV network, distribution, streaming service provider, device manufacturer, specialized programmatic platforms, aggregators, and/or marketplaces.
Each of these inventory providers has their own pricing model, delivery specs, data-driven reporting models, and workflows. This makes CTV buys time-consuming, complex, and often inefficient.
Out of that comes four key challenges associated with OTT and CTV advertising:
Budget. The complexity of OTT and CTV ad buys means that it can be difficult for advertisers to decide and track where the necessary budget will come from. Advertisers will need to unify their thinking across specialized teams around how their paid media is placed, and how ROI is tracked.
Fragmentation. The CTV industry is extremely fragmented, with very little standardization or norms. Viewers consume content through smart TVs, smartphones, and game consoles, each of which have their own best practices and means to collect user data.
Competition. There has been an explosion in the last few years of content distributions and device manufacturers entering this space, making it hard for advertisers to know where to put their budget to beat the competition.
Limited inventory. Because of this fragmentation, there is low inventory compared to other digital channels.

According to Clearcode

, many premium content owners are actively seeking ways to unify, standardize, and scale their inventory and data offerings to make them more appealing to potential buyers.
Despite these challenges, however, advertisers would be unwise to ignore the explosive growth trends we're seeing in CTV and OTT consumption.
How do trends in CTV impact OTT?
The growth of CTV technology is inextricably linked with the rise in popularity of OTT video services in recent years.
Currently, there are more subscriptions to video streaming services in the United States than there are people (340 million subscriptions to 330 million citizens).
Some 98% of all US consumers subscribe to at least one OTT streaming app. This shouldn't come as a surprise, given the pervasiveness of video streaming since the pandemic started, and the associated rise in CTV device usage.
As of 2021, the top five most popular CTV devices include:
Smart TVs at 119 million users
Roku with 9..4 million users
Connected game consoles with 72.6 million users
Amazon Fire TV with 69.7 million users
Google Chromecast with 33.7 million users
That relationship is not coincidental. What we're seeing is a direct correlation between the increase of CTV device adoption, subscriptions to OTT, and a drop in cable and satellite TV usage. In fact, it's expected that less than half of Americans will have used these traditional TV services by the end of 2024.
Unsurprisingly, advertisers are paying attention and starting to pump big money into CTV and OTT ad spend.
In 2021, CTV ad spend jumped 34%, a growth rate three times faster than linear TV. But 2026, ad-supported video-on demand revenue is expected to triple 2021 levels, hitting $31.5 billion. OTT advertising is also on a torrid growth pace. Video advertising from OTT services is expected to hit $119 billion in revenue by 2023.
It's clear that advertising on CTV is a growing trend that's being driven by a combination of the ease of online advertising, and the reach of connected TV and OTT services. In fact, as of Q1 2022, 92% of US households are reachable via connected TV programmatic advertising.
As a result of that access, 66% of advertisers and marketers plan to increase their CTV ad budgets, which is expected to top out at $18.89 billion total for all advertisers in the US in 2022.
How to get the most out of your ad spend
With CTV and OTT advertising budgets soaring, and the challenges of advertising through these channels remaining, it's important for advertisers to understand how to best optimize their ad spend going forward.
When running ads on OTT and CTV, it's important to have meaningful discussions as a team that answer questions like:
How many OTT requests are available overall on this platform?
Are we advertising through an OTT service or device?
Do we want to target particular networks or cable channels?
Can we view inventory on our desired channels by category or topic?
Are we able to avoid unsuitable content?
These questions are important, because there may be an assumption that, if you're buying CTV ad space, that you're getting premium OTT content. That's not necessarily the case. You may, in fact, be showing up on mobile apps or content that's not brand suitable or contextually-relevant.
Luckily, Peer39 offers a variety of tools and features that can help you answer these questions, plan your CTV ad spend efficiently, and track and report results transparently.
This toolset includes transparency reporting, contextual planning and targeting, and brand suitability.
Transparency reporting
Advertisers using Peer39's technology can access new levels of reporting granularity from their programmatic CTV buys, including channel, show-level and demographics data.
Each CTV report general includes the following insights for each campaign:
Channel
Show-level
Content categories
Production Type (user generated or professional)
OTT service
Ad starts
Ad completes
Ad and video completion rate
Number of ads per show / channel
This level of transparency creates opportunity for innovation, campaign analysis, and optimization that was previously unavailable due to a lack of visibility.
Learn more about CTV transparency reporting.
Contextual planning and targeting
Peer39 also offers cookie-free planning and targeting tools that let advertisers target contextually-relevant content and topics on CTV.
This gives advertisers the ability to target users for specific contextual signals based on what they're watching at an exact moment in time. Not only do they help advertisers understand the programming of CTV ad impressions, they also give deeper insights for better planning, targeting, retargeting, conversions, and campaign tracking.
Most importantly, this toolset helps advertisers overcome the ongoing challenges of fragmentation, insufficient inventory data, and inefficient buying processes.
Learn more about CTV contextual planning and targeting.
Brand suitability
Lastly, the explosion of CTV has created an urgency for advertisers to find ways to ensure brand suitability and safety in their buys. This is how advertisers ensure that their ads appear alongside appropriate and relevant content in traditional digital channels, and should be accessible on CTV as well.
Peer39 offers a brand safety solution and custom brand suitability controls to address this important issue. The tool includes a group of pre-bid contextual categories that help CTV buyers avoid unsafe, unknown, or unverified channels during campaign planning.
Learn more about CTV brand suitability.