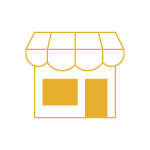 The Contextual Data Marketplace®
Marketplaces, not
just for audience anymore
The first-of-its-kind offering is designed to give advertisers direct access to an innovative and expanded set of pre-bid, cookie-free contextual data suppliers based on content such as web pages and apps, and those focused on the context of physical location. Categories created from a variety of data sets—large and small, niche or broad—bring new dimensions to advertisers for insights and targeting.
In the Contextual Data Marketplace®, advertisers can explore and discover new and emerging 3rd party contextual data providers with cookie-free categories that scale. The marketplace gives advertisers the ability to expand the range of contextual categories to include: news trustworthiness and credibility ratings, emotional targeting based on keywords used within the text of pages, location-based product demand, weather, demographics, purchase affinity, quality targeting, and more—available through all buying and selling platforms.
Advertisers can achieve a new level of precision through tailored combinations of categories across marketplace partners and the Peer39 taxonomy, allowing marketers to reach consumers in the right moment and mindset. The benefits are many, including ensuring that you are funding credible journalism and social equity while providing certainty their media spend does not fund misinformation, disinformation, fake news copyright infringement, and toxic narratives.
Here's how it works
The Contextual Data Marketplace unlocks the programmatic ecosystem for third-party data providers by extending Peer39 capabilities, algorithms, models, and technology to accelerate the creation of new data products. Then, by leveraging the Peer39 integrations, new categories become easily discovered and activated by advertisers.
Discover

a diverse library of innovative pre-bid contextual categories based content

Access more contextual insights and planning tools for impression and volume availability
Create

tailored combinations of categories and individual categories specific to your strategy

Increase

accuracy to find the relevant moments where the mindset of audiences are most receptive to your message

Future-proof

and create cookie-free targeting strategies for performance or scale
Phasing out the cookie gives advertisers time to rethink their approach and mitigate risks when the cookie-free future becomes the new reality. This time that can be used to thoughtfully migrate results and knowledge from audience-based targeting strategies to ones that will survive in a post-cookie world.
The Contextual Data Marketplace® Partners
The Marketplace has grown from two to over a dozen partners in less than a year, with more to come. Explore, discover and activate data sets from a curated selection of innovative data providers bringing new dimensions to advertisers for insights and targeting at scale, on any DSP.
Looking to pivot your audience-based targeting strategies to content-based contextual ones and create sustainable targeting strategies for the cookie-free future? We can help. Reach out to our account management team for a customized, no obligation strategy conversion: Peer39AM@Peer39.com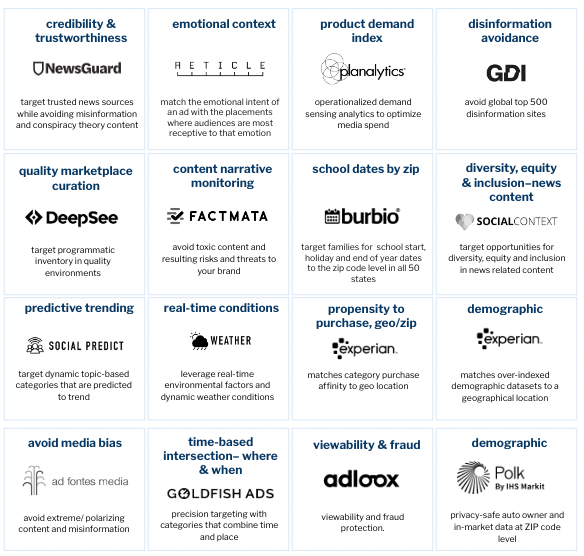 Discover more cookie-free partners in
the Contextual Data Marketplace - it's free