The opportunity for advertisers with Contextual CTV
The accelerated trend of smartTV and streaming service adoption was fueled largely by pandemic lockdowns and the lower costs of streaming devices. Consumers want more choice, flexibility and control than traditional television offers. As a result, the very definition of tv advertising is changing; digital advertising and audience targeting needs to account for the number of consumers choosing streaming services like Netflix, Hulu, Amazon and YouTube when they think of "television."
Proof that it's not a fad: The percentage of adults watching video daily via connected TV device remains at the same level as 2020.
82% of households in the US have at least one connected TV device like Roku or Apple TV (a higher penetration rate than cable TV.)

TV viewers between 18-34 are reported as the biggest daily users, with some 54% watching videos via CTV device.

43% of people 35-54 watch daily and 22% of users 55+ watch daily
By the end of 2022 expectations are CTV viewers in the US will grow to over 213 million, streaming a billion hours plus of video content each week. Video advertising needs to keep pace and adopt CTV campaign strategies for optimal audience targeting.
Marketers no need to translate real-time viewer information into targeting advertising across apps and streaming platforms in order to make the most of their budgets
Unlike linear television, CTV is far more accessible to advertisers and provides advertisers with superior control and precision around targeting signals beyond scheduled programming or active content viewing. CTV advertising offers the intersection of display's precision targeting capabilities and metrics with high-quality, long-form tv environments, reaching a target audience in the moments that matter.
As CTV evolves and matures, advertisers need to have tools to take advantage of the unique capabilities of the format without losing the kind of brand safety and optimization data they've come to expect in other types of channels.
Buying OTT inventory on CTV can be messy, complicated, and opaque. Up until now, while marketers are shifting spend and investing, CTV still poses specific challenges.
Consolidated, normalized CTV reporting data for the first time
Although Connected TV ad spending continues to grow, transparency into which inventory CTV buyers get is next to impossible due to wide variations in data availability, inconsistent and indecipherable app data and lack of industry-wide standards.
Our first-to-market Transparency Report: CTV now gives advertisers this visibility across their CTV investments. Advertisers gain new and critical levels of transparency into where their buys have run performance and audiences they cannot currently access with other providers.
Ensure that ads are actually running in the kind of CTV content or streaming video you want it to and that it's actually CTV content. Our report is often the first time that buyers are made aware video ads and media are being placed in non-streaming environments such as screensaver or a mobile app – places that should never try to serve a CTV ad. We can also report on if ads are running in UGC, non-professional video categories, and other low-quality placements.
Empowered with these new insights, advertisers can now use the same data and insights to optimize their CTV buys with Pre-bid…. gaining a deeper understanding of where these audiences are spending time and consuming content.
Using our deep knowledge of and ability to make sense from fragmented and unstructured data, we've made CTV reporting more uniform and accessible to give a complete picture ascending beyond linear TV viewership and digital campaigns with attributes including:
Ad Complete Impressions

Ad Completion Rate

Ad Start Impressions

Channel

Content Categories

Number of ads per channel

Number of ads per show

OTT Advertising Service

Production Type

Show-level
Suitability use case examples
Avoid:
User-generated or mobile apps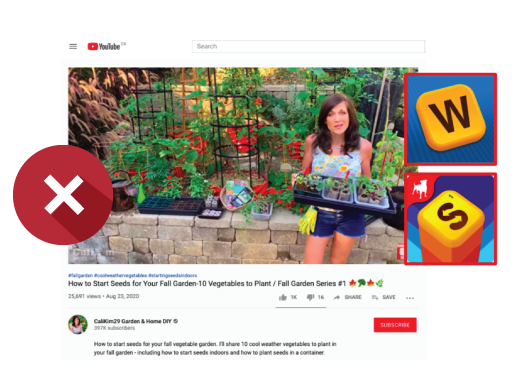 Target:
Home and garden or only OTT content on CTV devices
The connected TV ecosystem
These terms are often used interchangeably, but they aren't the same thing. All content on CTV is OTT, but Over-The-Top content can also be viewed on non-CTV devices, such as laptop or mobile.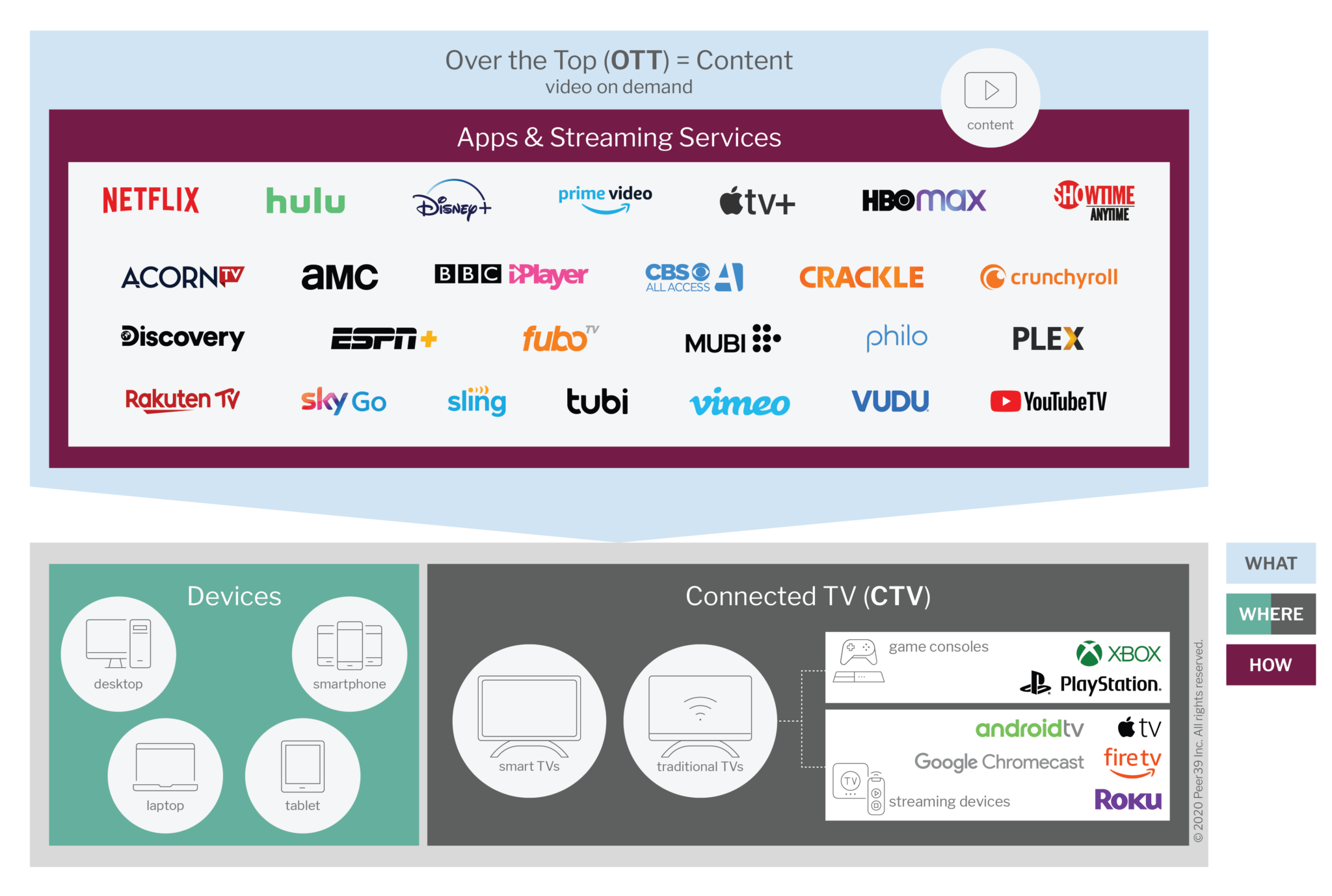 The combination of Peer39 classification technologies (semantic, mobile, etc.) creates an opportunity for programmatic advertising to reach the right demographics in programmatic OTT-CTV beyond traditional TV channels and content.
Get started planning your CTV buys today!